Tarot readings are renowned for divining the future via the spread of cards and the wisdom, psychic ability and insight of the reader. These packs of 78 cards feature wands, cups, swords and pentacles in the 56 minor Arcana set, and images, such as the Hanged Man, the Fool and the Devil within the major Arcana cards. 
Answers to life's problems sometimes arrive from unusual sources, you may never have experienced a Tarot Reading in the past, yet they can give indications of your future to guide you in making decisions that are right for you and an online tarot reading could be best for an initial reading.
Coping and Resistance · Courage · Long-term successes · Perseverance · Strength

Seven of Wands's Meaning

You almost certainly have great reserves of courage, and the perseverance to see yourself through difficult times. You may not be aware you possess these qualities, but you will find yourself needing them soon. Expect conflicts, possibly small, but more likely significant. It is not certain where they will arise, but there is no doubt you possess the ability to overcome your adversaries.

Past

Despite slow progress, your determination and sustained efforts will lead you steadily forward. Do not give up.

Present

There is a great conflict approaching, but do not fear. Through courage, you will overcome this hurdle and experience a major change in your life as a result.

Future

Continue to believe in yourself. The odds may be against you but you have the power to beat them. The courage to fight on and accept challenges will lead you to a bright future.

Yes / No Key Interpretation

The Seven of Wands represents long-term success due to the strength it takes to overcome obstacles and being able to take on calculated risks. Using courage to stand up for yourself and what is best is what this card is all about. The answer you are seeking is yes.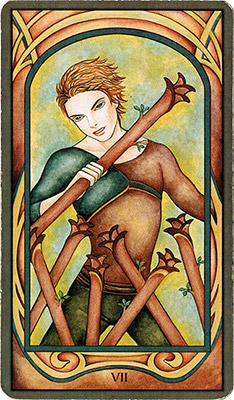 Completion · Good news · Reward and Recognition · Success · Triumph

Six of Wands's Meaning

Your past efforts are about to pay dividends if you find the Six of Wands in your spread. Whether in the form of recognition for your past work or material reward, some level of success is in your future. If you are waiting for some particular news, this card is most likely a portent of good news. However, it is also gentle reminder that magnanimity and grace should accompany your success. To avoid losing friends and inviting retributions, do not let the good fortune go to your head.

Past

The effort and inspirations of your past have brought you to where you stand now. Continue on your path and you will find rewards.

Present

There is good news coming. Though it may be conditional, this change will greatly aid your pursuit of fulfillment.

Future

There is triumph at the end of your road. To find it will require careful navigation and the removal of opposition, but all that you desire can be achieved.

Yes / No Key Interpretation

The Six of Wands shows triumph, victory, and success in your endeavors. It suggests a person feeling exalted because of winning and finding the inspiration needed to move forward. Good news is the overall feeling in the presence of this card. The answer is yes.
Balance · Conflict resolution · Decisions · Peace of mind · Prejudice

Two of Swords's Meaning

Like crossed blades, the II of Swords represents a balance of forces. Not necessarily an absence of struggle, but an equal distribution of force in opposition. It may indicate you are in a position to mediate a conflict, or it may instead suggest you are caught in the middle of a dilemma with no clear outcome. The resolution of this state will likely bring peace for you.

Past

Being honest about your past will help you to make a difficult choice. The conflict that you have been experiencing will be resolved by a new approach.

Present

There is a conflict that will lock up your energies in the effort to resolve it. By overcoming indecision, you will take deliberate action to decide the resolution.

Future

The difficult situations that lay ahead of you must be overcome immediately, so do not delay or hesitate. Bring about the best possible ending by acting honestly and with honourable intentions.

Yes / No Key Interpretation

The Two of Swords symbolizes conflict resolution and decisions that must be made. However, the conclusions are likely through seeking inner peace and coming to a compromise. While this card suggests a general peace of mine, it leans neither toward yes or no. Thus maybe is the answer.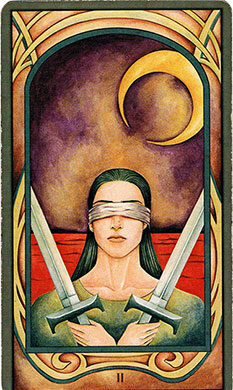 Benefits of Online Tarot Reading
The deck of Tarot Cards and Tarot Readings are an ancient form of wisdom, which may have originated in Egypt or the Far East in either India or China. The philosophies of the ancient worlds have helped mankind for centuries and Tarot Readings are no exception.
When you opt for an online Tarot Reading from psychicworld.com, you are choosing readings from experts who have spent many years honing their skills in Tarot. Finding a Tarot Reader in your community may be more difficult, particularly if you are looking for the best readers with the most knowledge of the ancient art. Arranging an online Tarot Reading allows you to select from a number of different readers, to find the expert reader most suited to your needs.
Before your reading, you should relax and quietly contemplate the questions you want answering. Your Tarot Reading can be directed to find the answers to queries about relationships, career and money, finances, love and lifestyle. In fact, any problems in life that need thinking through with care can be addressed by your Tarot Reader and your influence and energies will be used to predict and divine what could be the best answers for you.
Achieving spiritual awareness and knowledge is a difficult target for anybody, particularly when life's pressures can cause so much stress. The very task of living and surviving takes over for many people, they don't dig into their inner psyche to discover the wealth of inner peace that can be achieved. You can develop your true inner self, with the assistance of Tarot Reading and other forms of ancient philosophy available from psychicworld.com. When you take time to develop your personal inner wisdom, you will reflect greater self confidence and awareness, attracting other people to your aura and being. Don't struggle with problems or jump from one crisis to another, when skilled Tarot Readers can assist you in achieving the life balance you need, and making the right decisions in life to ensure you keep moving forward and growing.
Get your readings done from $1
Browse through thousands of psychics listings. Choose one you trust. Pay as you go.
There are 85 listings more